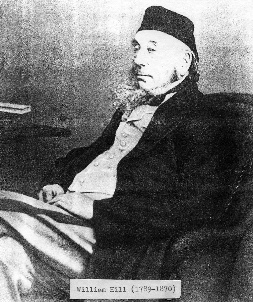 In 1837 King William the Fourth commissioned a young organ builder, William Hill and his partner Frederick Davison of London, to build and install a new organ in the Chapel Royal of St. James Palace, which in those days was the Royal Palace (even today all foreign ambassadors are still assigned to the court of St. James, London).
During its time in the Chapel Royal the organ was used on many royal occasions – baptisms – Royal family weddings, including the then Princess Royal's marriage to the Crown Prince of Prussia and on February 10th 1840 at the marriage of Queen Victoria to Prince Albert of Saxe-Coburg, when, it was reported, over 300 guests were squeezed into the small chapel.
During 1865 the Queen was advised that the organ was no longer suitable for the purpose for which it was being used – Mr. William Hill was subsequently requested to build a new organ for the Chapel Royal.
Thus it was that in 1868 the old organ found its way to the "new" town of Barrow-in-Furness, to be installed in the town's church of St. James the Great.
Although a wonderful acquisition, in the decade that followed the action of the instrument began to give cause for concern and it was decided to call in some experts to consider what could be done without damaging the historic organ.
The experts chosen were two very distinguished musicians – Mr. Charles Villiers Stanford (famous for his oratorios and church music) and Sir Frederick Gore-Ousley (Queen Victoria's personal music advisor). They recommended that the instrument be rebuilt and a new action fitted – at the same time advising that additional pipes be put into the organ, 400 in all, and that the organ be moved into the chancel transept, which at that time also housed the vestry.
In 1883 new vestries were built so that this could be accomplished and a fund was opened to raise the necessary money – the final cost was £782.

The rebuilt instrument was "re-opened" on July 24th 1884 – thus it was that the marvellous organ St. James now possesses came into being.
The fine tuba stop on the organ was a gift of Victor Dilkes, one of the many distinguished organists St. James has had over its 125 years. One famous organist, Nigel Ogden, remarked in 1991 that "On a clear day the Tuba could be heard in Skegness"!!
The organ has the beautiful "warm" tone of a William Hill instrument – a truly English organ – it is possibly one of the earliest organs built by William Hill. It is a possession many churches or even towns would be proud to own.
Organists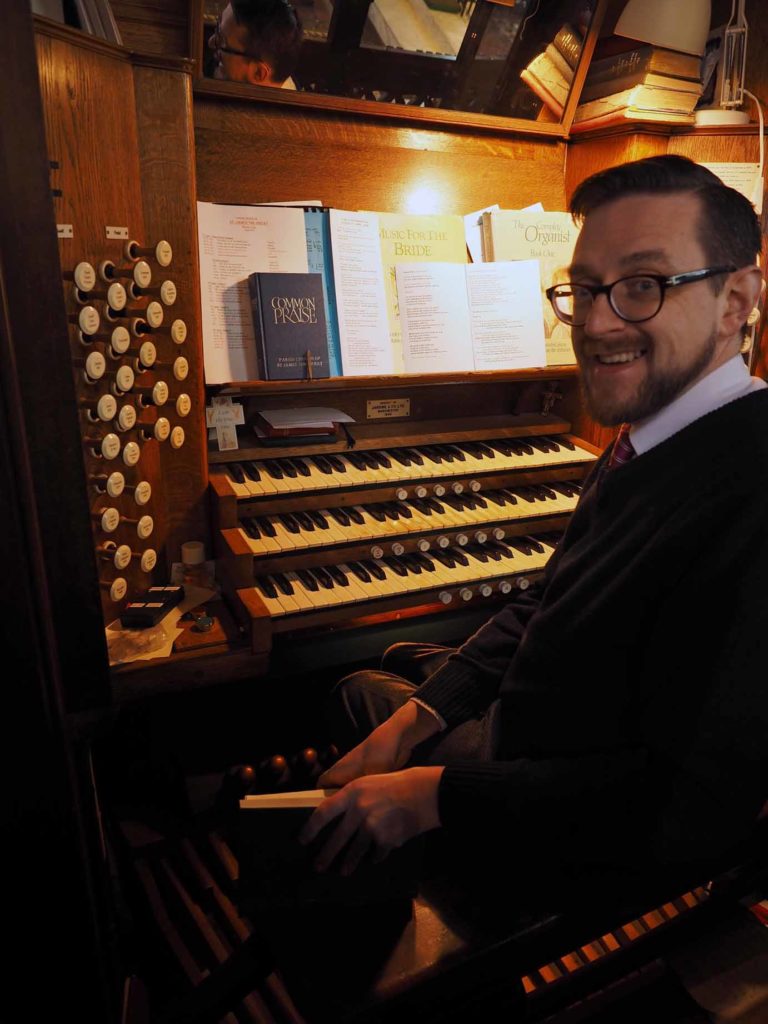 The following is a short list of organists:
Dr. Edward Brown. D.Mus.
Mr. Allsop.
Mr. McNeill.
Mr. H.H. Thomas.
Mr. Victor Dilkes.
Mr. N. Whitton.
Mr. J. Cranston.
Mr. J. Cope.
Mrs E. Reid.
Mr. M. Hamilton.
Mr. Stephen Davies.
Mr. A. Wilkinson.
Mr. L. Jackson.
Mr. Mark Latimer (pictured right).
---
Features, Updates and Rebuilds
Adjustable thumb pistons to Great Organ.
5 Adjustable thumb pistons to Swell Organ.
5 Adjustable thumb pistons to Choir Organ.
1 Thumb Piston reversing coupler Swell to Great.
1 Thumb Piston reversing coupler Great to Pedal.
1 Toe Piston reversing coupler Great to Pedal.
5 Toe Pistons to the Pedal Organ.
5 Toe Pistons to the Swell Organ.
40 stops – 3 manual – 2400 pipes
Compass CC to G 56 notes.
Pedal organ CCC to F 30 notes.
Action: Solid state electronics (1988)
Built by Hill and Davison in 1837.
Re-builds 1884 – 1948 – 1988.
Swell Organ
Bourdon – 16ft
Open Diapason – 8ft
Stopped Diapason – 8ft
Saliconal – 8ft
Voix Celeste (Tenor C) -8 ft
Principal – 4ft
Fifteenth – 4ft
Mixture 3 ranks

Contra Fagoto – 16ft
Horn – 8ft
Oboe – 8ft
Vox Humana – 8ft
Clarion – 4ft

(I) Swell Octave
(ii) Swell Sub-Octave
(iii) Swell Unison Off
(iv) Tremulant
Great Organ
DoubleOpen Diapason – 16ft
Open Diapason No.1 – 8ft
Open Diapason No.2 – 8ft
Hohl Flute – 8ft
Principal – 4ft
Harmonic Flute – 4ft
Twelfth – 2 ⅔ rd
Fifteenth – 2ft
Mixture 4 ranks

Posaune – 8ft



(v) Swell to Great
(vi) Choir to Great
Choir Organ
Lieblich Bourdon- 16ft
Open Diapason-8ft
Stopped Diapason-8ft
Gamba- 8ft
Dulciana-8ft
Principal- 4ft
Flute-4ft
Piccolo- 2ft
Clarinet-8ft
Tuba- 8ft
(Heavy Pressure 12″ wind)

(vii) Swell to Choir
(viii) Swell to Pedal
(ix) Great to Pedal
(x) Choir to Pedal
(xi) Great Pistons to Pedal
Pedal Organ
Open Wood – 16ft
Violone – 16ft
Sub Bass – 16ft
Trombone – 16ft
(Heavy Pressure)
Violoncello – 8ft
Bass Flute – 8ft
Trumpet – 8ft
(Heavy pressure)